Art for Empowerment
TEAMWORK | Empathy | Mutual Respect | Integrity
Aftertaste Foundation
Theory of change
At Aftertaste we are trying to address problem of economic poverty and social poverty using a 2-pronged approach.  We realised that women in the community can play a significant role in economic growth and overall social upliftment of families and communities. Our theory of change is based on:
Empowered women

= Empowered family
Aftertaste's work started with economic empowerment of the women of the community using art and craft as a medium and enabling the women to earn a dignified livelihood. Subsequently through the process of skilling the women and generating a livelihood, Aftertaste works with the women and their families continuously, to bring about social change by empowering them with knowledge and exposure to build capacity in the areas of education, healthcare and financial literacy leading to an improvement of the socio-economic condition of their families.
Empowered Women
Aftertaste has been able to create a safe space and a support system for the women. Every day the women work together, learn and share with each other and discover their identity. They have transitioned from struggling homemakers to working women with a high sense of commitment and work ethics. Each time they step out, they leave their worries and troubles at home, and find solace through their work. Aftertaste team is a well-knit family with a dream to make their world a better place and fulfil the needs of the family.
Sense of Identity
Today with my work I have attained a position for myself in the house which I had never thought of. My work gives me the confidence to take critical decisions like educating my daughter. Everyone in the village said, don't educate your daughter so much. But I was determined to educate her. She passed 10th standard with 80% and is studying science and appearing for the 12th grade exam. I dream one day she will have all the opportunities which I never got
Empowered Families
The children of Aftertaste take pride in their mothers work. Each woman at Aftertaste is a mother, and they are all unified by a common dream - to create better opportunities for their children. Today the depth of impact has extended from 40 women to 200 family members, who are now breaking the vicious cycle of social and economic poverty
Mother's Day Gifts
Gifts that give back
Tough times help us cherish our emotions and bonds further! The artisans of Aftertaste are all mothers and they have put together a delightful package to display our affection to all Mothers and mother-like figures in our lives! To gift your Maa, amma, ammi, aai or mummy - presenting Mother's Day combos handmade meticulously by the Artisans of Aftertaste. We urge you to purchase and enable the mothers of Aftertaste to earn their dignified livelihood.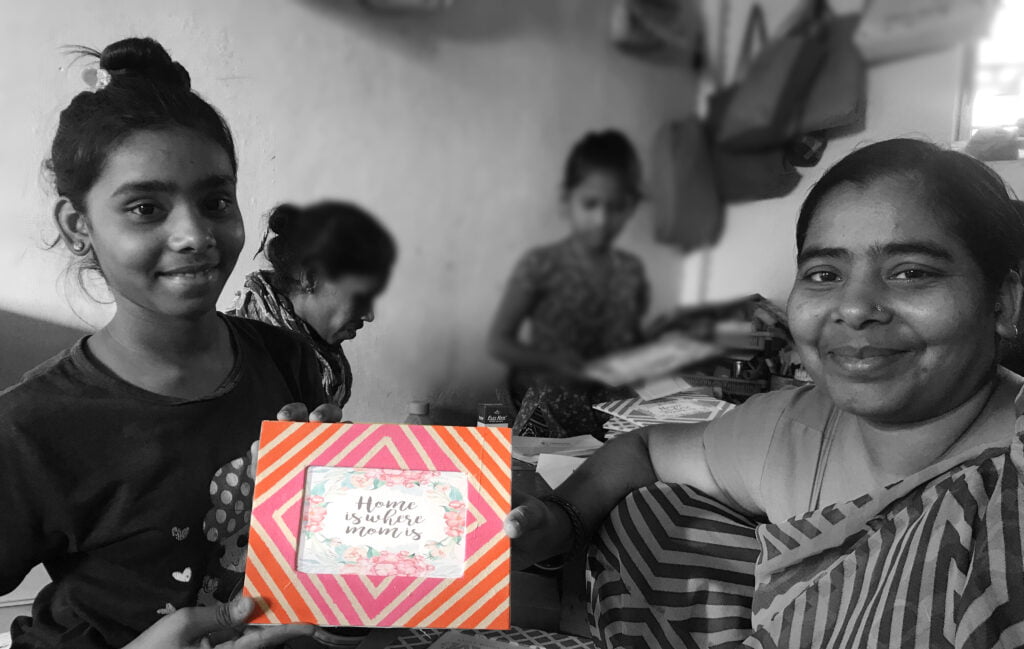 Each product is a work of love, hard-work and perseverance, handcrafted and hand-painted meticulously by the women of Aftertaste. These women are mothers who belong to the urban low income communities of Mumbai where their lives are ridden with daily existential challenges. Empowered with economic means, knowledge and skills at Aftertaste they are breaking the vicious cycle of social and economic poverty. Today the women are fulfilling their dream of educating their children and charting a better life for their families. As you enjoy these handmade products over a period of time, may you also enjoy the lingering aftertaste of being connected to their journey of empowerment.