Stories of hope, courage and the transformative power of Art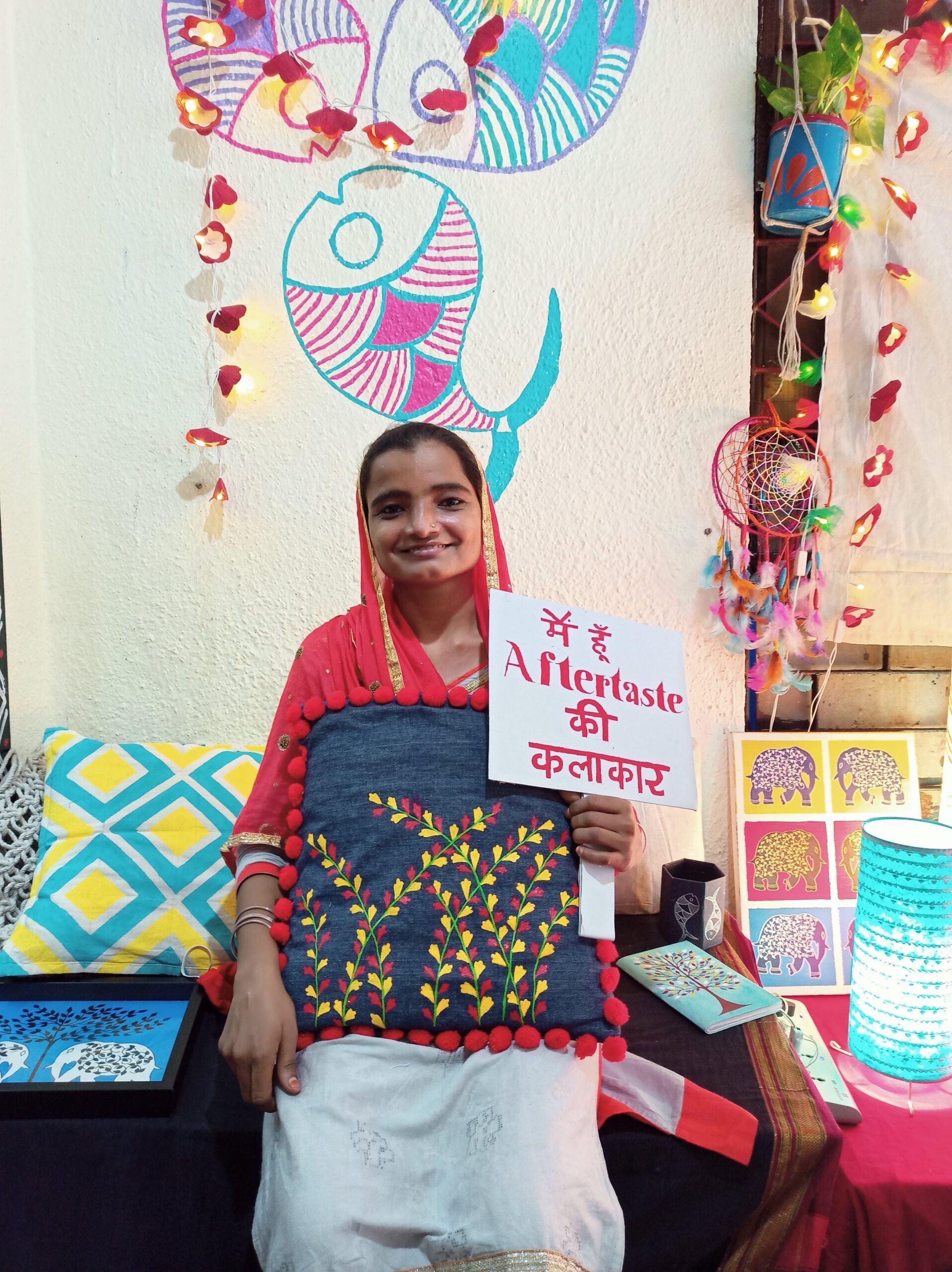 Fatima Shaikh
"When I joined Aftertaste I was struggling financially and personally .I was not being able to fulfil the needs of my children or run the house properly. My husband is a daily wage labourer and he works for only few days in a month and he is epileptic. It was getting very difficult to sustain. I wanted to do something and change it. I was one of the first members to join Aftertaste and it was a steep learning curve for me to make even the first product: a paper bag. At the beginning I felt I won't be able to do it, and wanted to give up so many times. But didi and my 2 other teammates pushed me and gave me the courage to keep trying. For the first time I was in a place where I was allowed to make mistakes and taught with love. I never knew I could earn a living by drawing and crafting.
I started learning each skill but I liked drawing the most. After I started working here, I started paying off all our loans. I placed my youngest daughter in a private school. I became self reliant. I also bought a plot of land with my savings for our future. I have a come a long way since then. I look forward to coming to the office everyday and sharing with my friends at work. I feel mentally and physically relaxed at work and forget all my tensions here. My work gives me the strength to take personal decisions which was not possible earlier."
Salma Begum Sardar
"I was physically weak and emotionally devastated when Rizwana ji got me to join Aftertaste. I had lost my husband 5 months before and was ridden in financial debt. No other place of work would have accepted a woman, who is physically weak and not in a position to work hard. But this place accepted me and gave me the time and strength to heal. I had never done this work before, but with the help of my other teammates I gradually learnt each skill and regained my self confidence and health. I rebuilt my life from scratch. I am working since the last 5 and a half years. I am in a leadership position here today and manage 9 other team members.
Today my daughter has completed her 12th standard and started working and my son is appearing for his 10th grade examination. A woman has so much inner strength she is herself not aware of. She just needs someone to watch her back and give her the courage to not give up. I received that at Aftertaste. Life of a woman in an urban slum in Mumbai is ridden with daily hardships. Today I have changed that completely. Before this, I was never addressed using my first name, I was a mother, a wife. But today I have my found own identity through my work, I am addressed at Salma ji."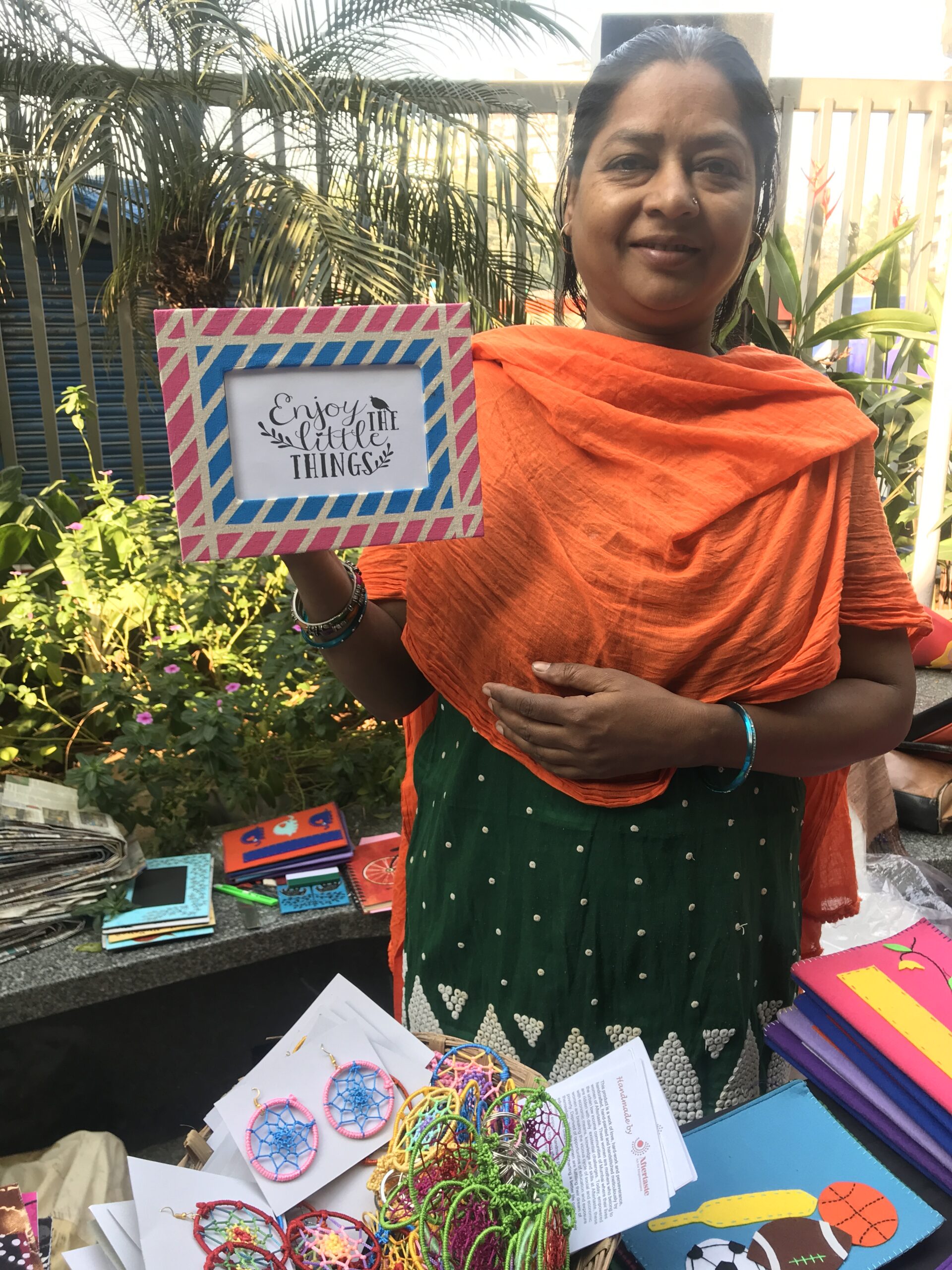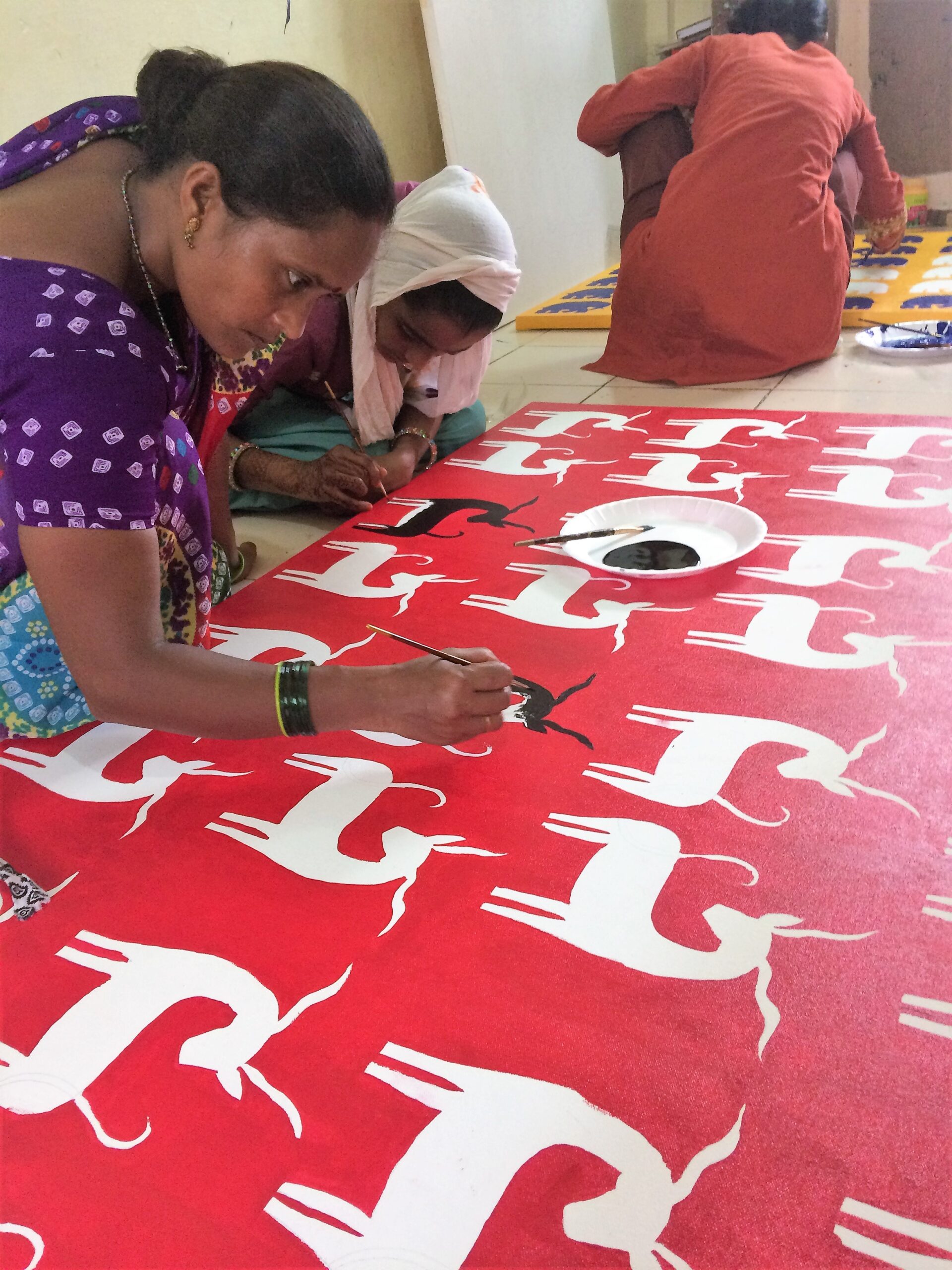 Pavitri Gupta
"I was inclined towards art when I was a child. But I could never study beyond grade 2, and never received an opportunity to explore my potential. My marriage brought me to the sprawling slum of Ambuzwadi in Mumbai from my village. My daily life here comprised of completing domestic chores and dealing with the existential challenges, till I joined Aftertaste 6 years ago. It gave me the platform to find my potential and create my identity as an artist. I paint everyday, and sometimes I am amazed at my own creations. We have completed atleast close to 500 orders of handpainted products for different organisations over the last 6 years. The most memorable project was when we created 3 canvas paintings, 5 feet by 3 feet in size for an office in Mumbai. I along with my teammate went to deliver it ourselves and signed on the canvas. I was so proud to see my work up on the wall at the reception of such a reputed place. From being a woman in a slum in Mumbai where the respectable fear to come, to receive recognition and respect as an artist among educated people, I had never imagined we could ever receive such opportunities.
I have 2 daughters and 2 sons and I pass on my creativity to them. I love what I do and earn a living from it. I am educating all my children using my earnings. I have travelled to rural Gujrat twice and trained 80 other women. It gives me immense joy to share my knowledge with others. I hope the way we have been able to come this far may several other women also find the way"
Ayesha Sayyed
"When I joined Aftertaste, I thought it will be just a place of work to earn some money and get some financial leeway. But it was different. Today with my work I have attained a position for myself in the house which I never thought of. My work gives me the confidence to take critical decisions like educating my daughter Everyone in the village said, don't educate your daughter so much. But I was determined to educate her. She passed 10th standard with 80% and is studying science in 11th grade now. I dream one day she will have all the opportunities which I never got.
I stitch different types of products here, which I had never known or seen before. It gives me a lot of joy to be able to stich such difficult products which are praised by so many people and travels all over the country and world. I had fallen and broken by ribs just before the large Diwali order of 2400 bags. I spearhead the stitching team and the completion of the entire order was hinged on me. After 3 days of rest and medicine, I was back at the workshop and the sewing machine. The bags which we were stitching was a very difficult one and we had never stitched something as complex as this. But me along with my teammates met the challenge and delivered the bags on time. We have missed a deadline no whatever adversities have come our way. We have handled it, Never knew we had so much capabilities and achieve so much"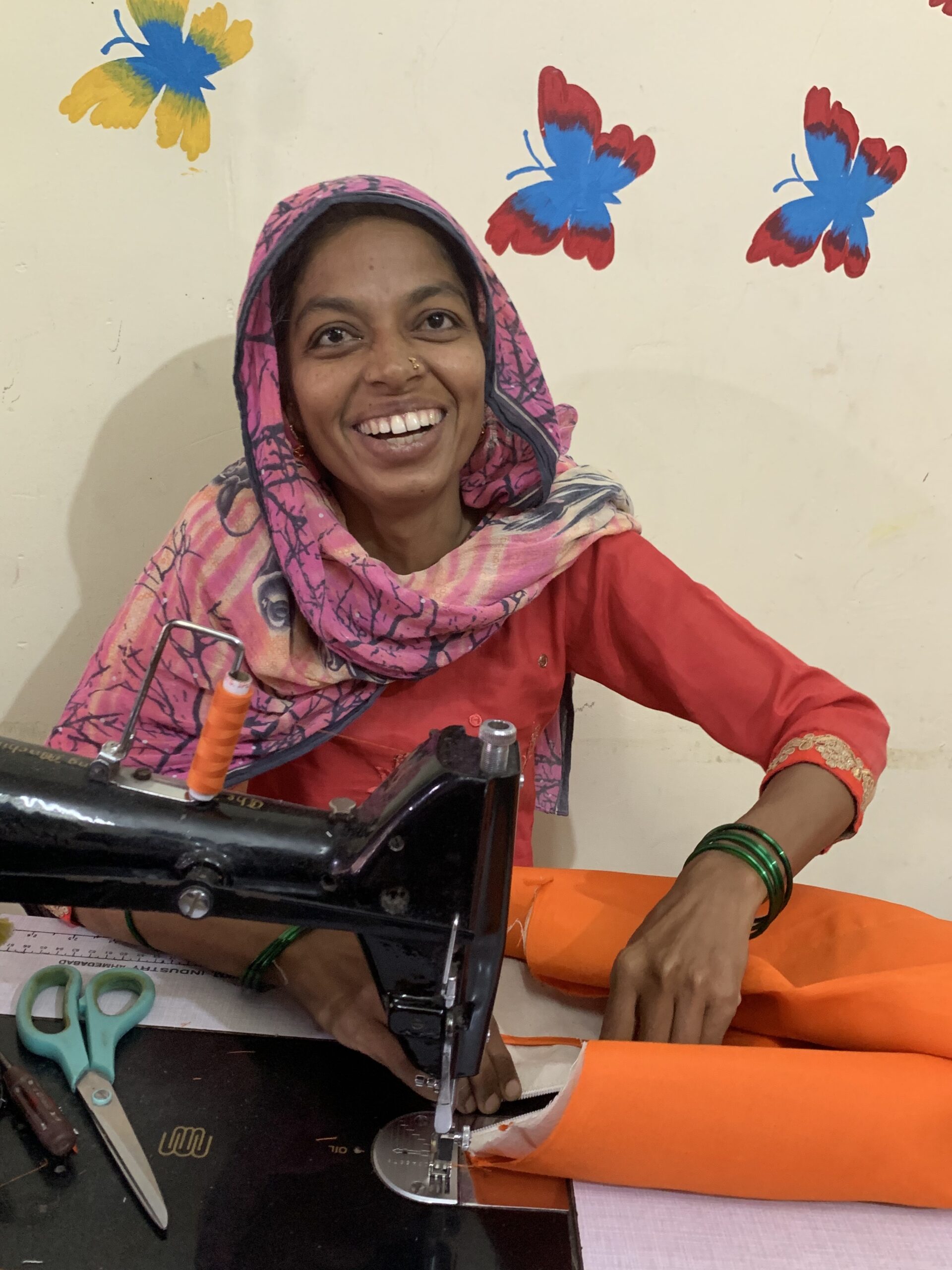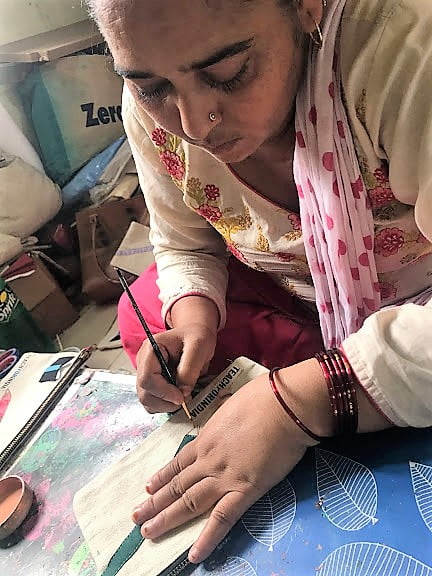 Rizwana Ansari
"I am a mother of 2 daughters and a son. One of my daughters is a special child and my daily schedule did not give me any time to work anywhere for 4 to 5 hours and earn a living. We were struggling financially with the unstable income of my husband. When Aftertaste opened, it gave me the flexibility to work during the 5 hours between dropping my daughter to school and picking her up. At Aftertaste I traveled to so many places where I had never been before and saw so much. I learnt to conduct myself at exhibitions, talk about our work to complete strangers and tell them confidently how we handcraft each and every product and sell our products. It gave me a lot of confidence. I learnt time management, and how to plan my daily tasks at home. I understood the value of time and teamwork. I never say no to any work which comes my way. I always try to do new things and with the help of my teammates I have seen we always succeed. We create new products every month and it requires us to learn something which we have never done before. I enjoy learning new things. It is both challenging and exciting at the same time.
With my earnings at Aftertaste, I fulfil the financial deficit at home and I am educating my younger daughter. She is in 11th standard studying commerce. My daughter dreams of becoming a chartered accountant and I hope her dream comes true. This work enriched my life and changed it's direction for my family."
Shehnaz Shaikh
"I have seen the women in Ambuzwadi just shackled with daily struggles and confined within the limits of their home, Our lives have come far from there. We work in a space which allows us to be. Never knew we could earn a livelihood using art and craft and have access to this alternate world. Before coming here, I had never done or seen this kind of work. I learnt paper craft here, and I learnt painting here.

I feel very happy when we get large orders, go to big corporate houses for exhibitions. It gives me immense joy when our work is appreciated on such platforms.

The largest order we executed was creating 9000 photoframes in just 12 days ! It seemed impossible in the beginning, but teamwork in such a great force. All of us adjusted on the personal front, worked till late night for 1 week continuously and pushed each other. We received support from our husbands and older children who helped us run the house that time and they understood the value of our work. We delivered the order on time. It was one of the most challenging and memorable week of our lives. There was no stopping us after that. We have never missed any timeline till now whether it is 1200 bags or 20 notebooks. We make everything by hand. We cut, fold, paste, stitch, sketch, paint and pack. We leave no stones unturned to ensure we deliver on time and without any defect.

With my earnings from Aftertaste, I handle my family expenditure and take all critical decisions on the home front. My son was the first one in the family to pass the 10th standard. He is in junior college now and I have high hopes from him. I hope this work grows in leaps and bounds and several other women benefit from this."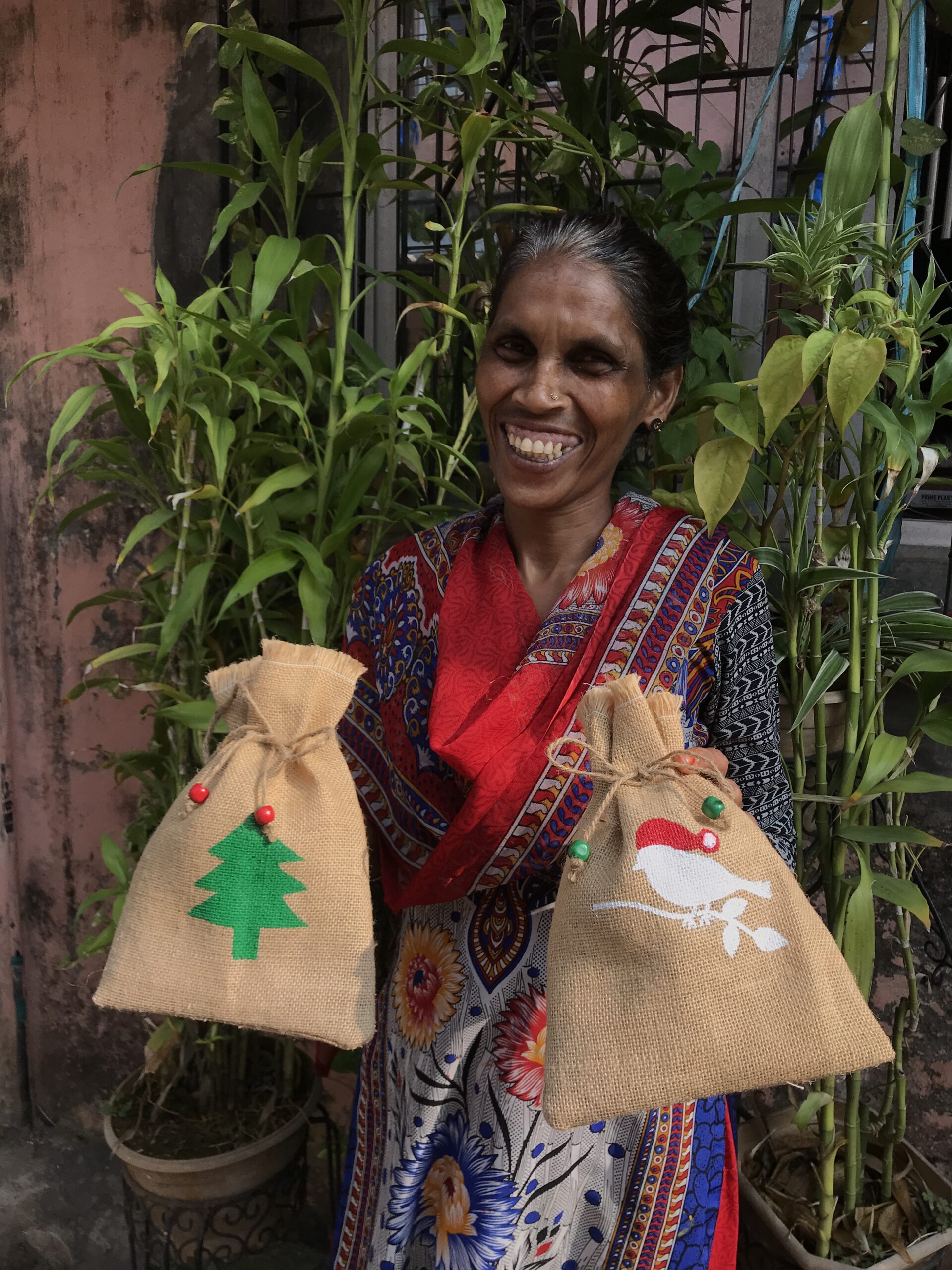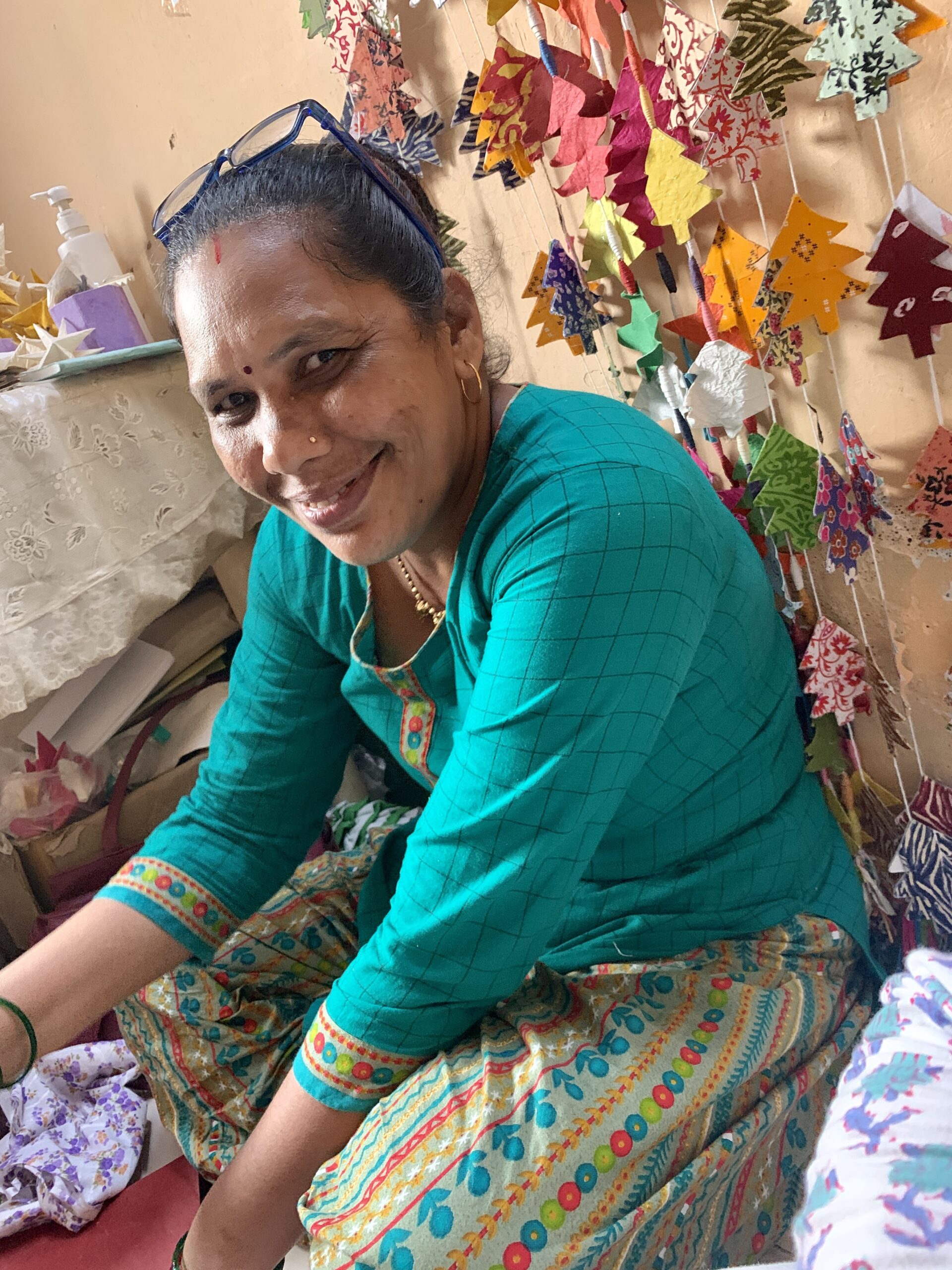 Sunita Dhoke
"I used to work before I joined Aftertaste. But I had to quit because of some personal problems. I wanted to earn to support the expenditure of my household and also to look after my children. Aftertaste allowed me to do that. I could earn the same amount by working for 4 and half hours everyday here, what I was struggling to earn after putting in 8 to 9 hours each day outside and without any travel cost or exhaustion of travel.
These skills were new, but I learnt them from my teammates. As of today, I handle creation of danglers, which we handcut in different shapes of butterflies, elephants, birds. I have trained some of my other teammates in making them. We innovate after every 2-3 month and think of what new can we offer using our skills, during festivals or some occasions. During the festive season of Ganesh Chaturthi, we launched danglers from upcycled cloth and received the order for decorating 2 homes. The homes looked beautiful.
Coming here to work is mentally relaxing for me and it eases out my tensions. I had never received so much exposure, went to so many places, met so many people whom I had never known before. From training others, to giving speeches about our work and encouraging other women in the community, it has been an enriching experience. We work with the Taj Hotel in Mumbai and make 4000 paper chef caps for them each month. I am in charge of delivering them to the Hotel each month.
We do everything on our own, and before this, we always thought there were designated tasks for men and women. But that line is blurred now and it makes we realise a woman is capable of doing everything if she is determined. My elder son has appeared for the 10th standard examination and he aspires to become an IAS officer. And this works give me the courage to make it possible."
Bilkish Qureshi
"I live alone. I decided to work so that at this old age, so that I could live my life with dignity and not depend on anyone. I do everything from my income from Aftertaste. I love weaving dreamcatchers and can weave any design you show me. I rebuilt my home with my earnings, and I even bought a pair of gold earrings, so that when I breath my last, it can be sold and my last rites arranged from it. I take care of my entire expenditure from my earnings at Aftertaste. When we come together to work, time is well spent, chatting, sharing. It makes me happy and I love my work."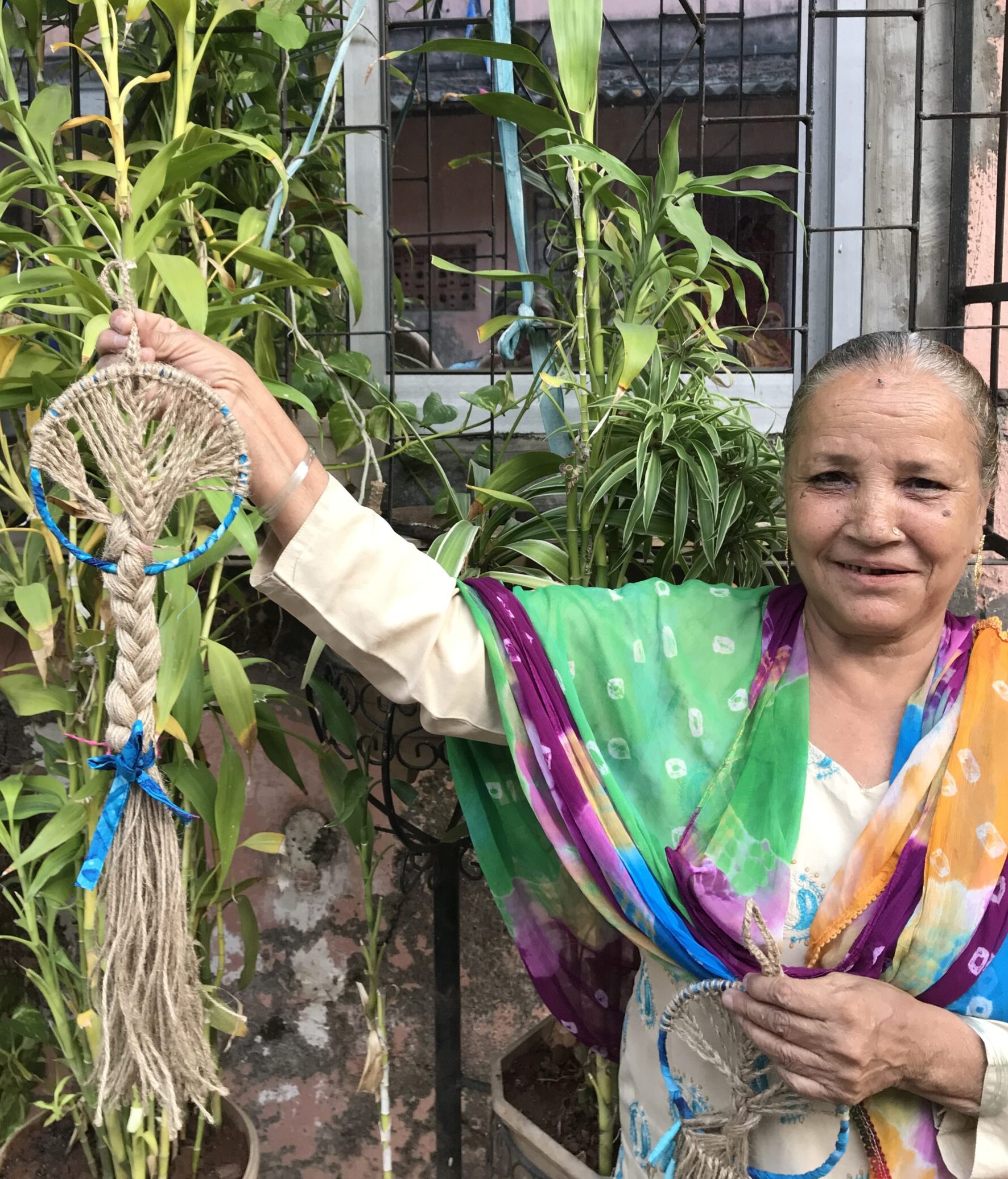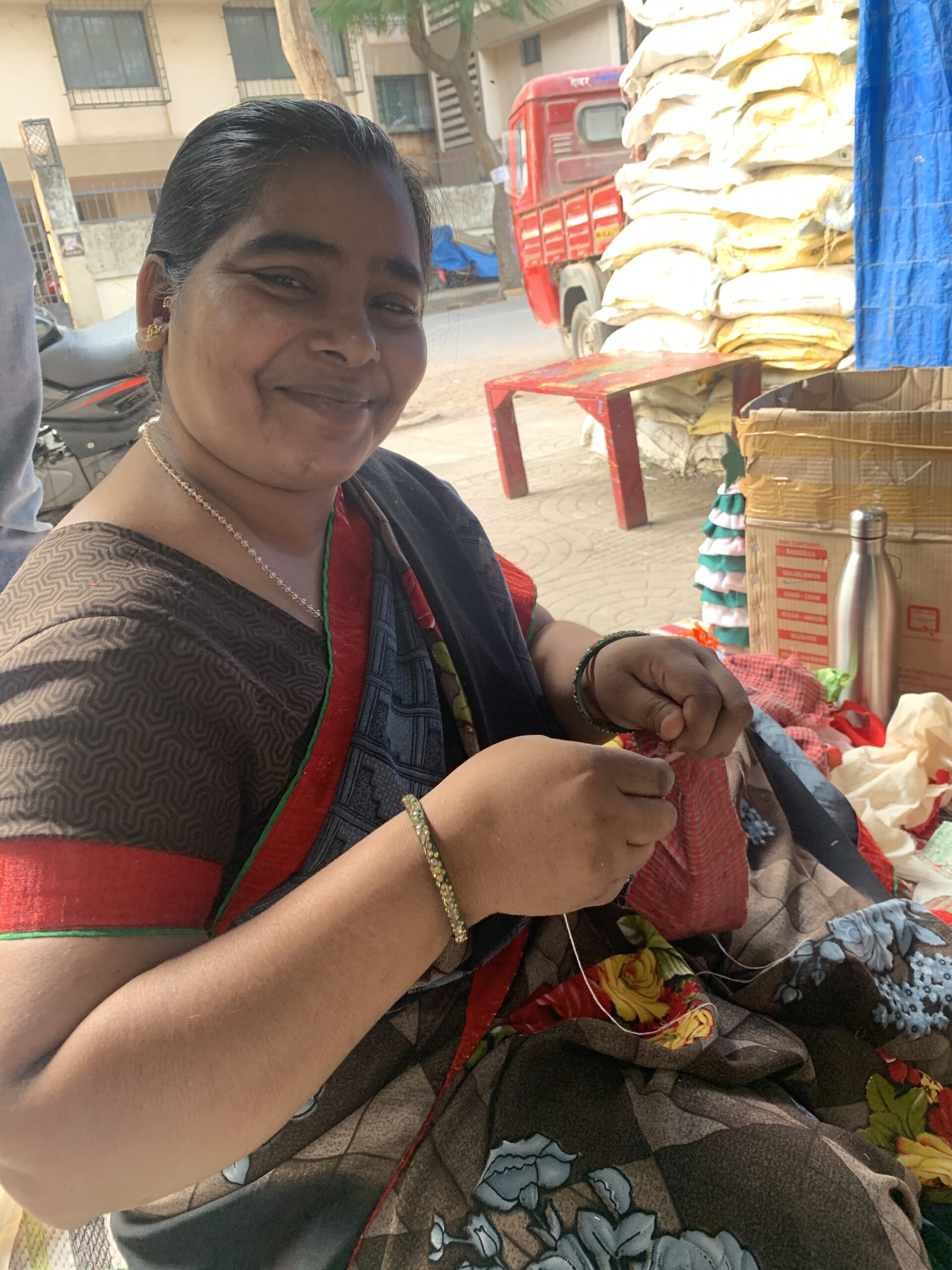 Kanchan Jaiswal
"I lost my husband 6 years ago. And our financial condition changed overnight. I have a son and daughter and I was looking for a job desperately, when another lady in the community recommended Aftertaste. I believe in hard work. No matter what fate you meet, if you work hard you can change your condition. That is what I tell every woman, don't sit and drown yourself in self pity, get up and work and change your circumstance.
Today my son has completed his 12th standard examination. My daughter is in class 10. I hope to educate them and make opportunities available to them through my work at Aftertaste."
Kamarjahan Shaikh
"I am separated and live alone. I used to struggle to sustain myself financially and did menial labour jobs available in the slum. I had meagre earnings and used to worried and sleepless at nights. I use to consider myself a victim of my circumstances. I was looking for an opportunity which would allow me to earn a dignified livelihood and come out of my present state.
I came to know about Aftertaste from Shehnaz ji who was working here. I started working here in a team, I started learning new skills. My teammates trained me, they gave me the confidence to learn. I make many products here like, decorative danglers, fairy lights and whenever we get large stitching orders, I get involved in stitching. I feel much better now and I am happier. I am able to fulfil my own needs From my earnings at Aftertaste I have saved money to rebuild my house. I am independent now and living my life with dignity."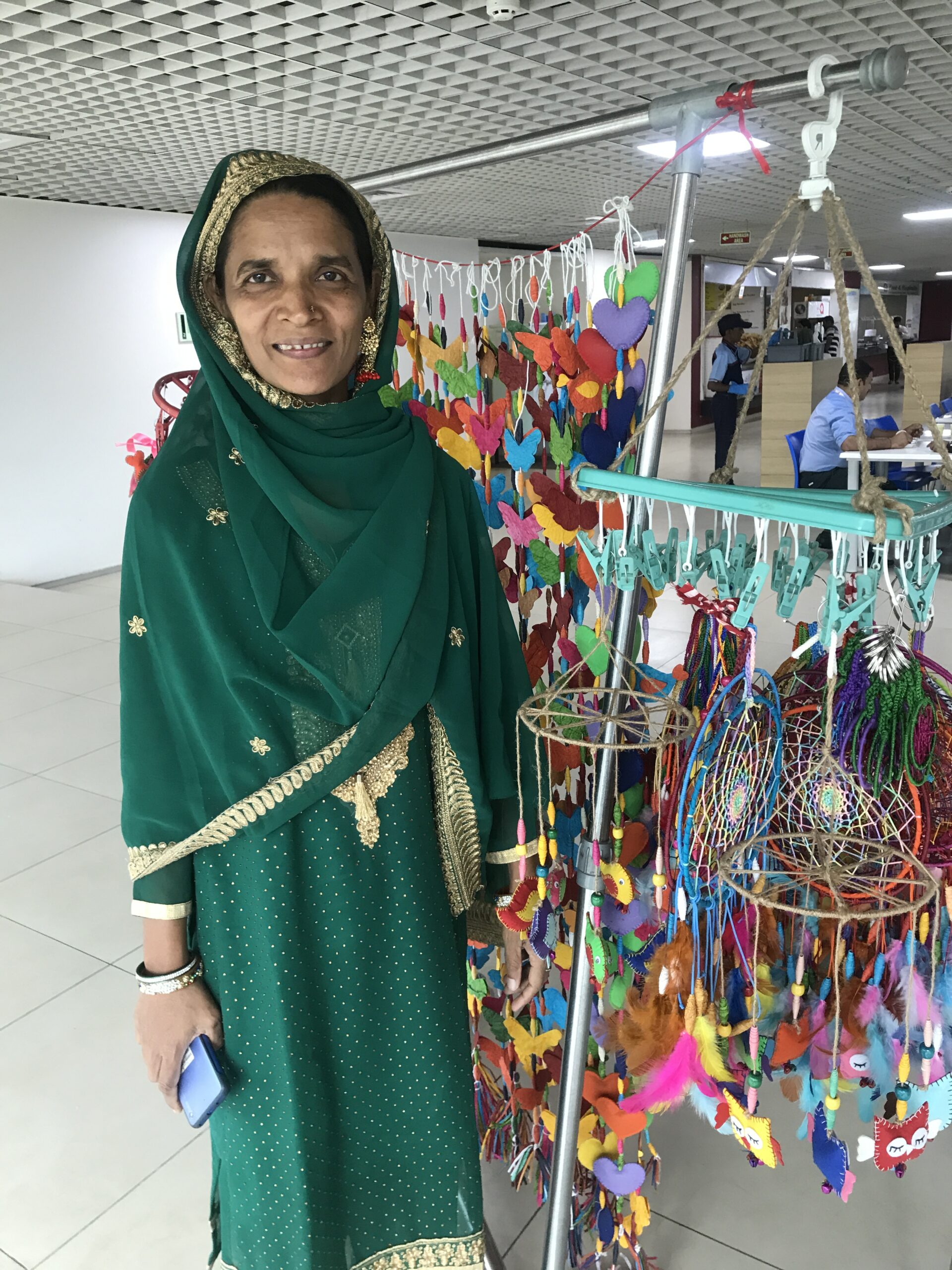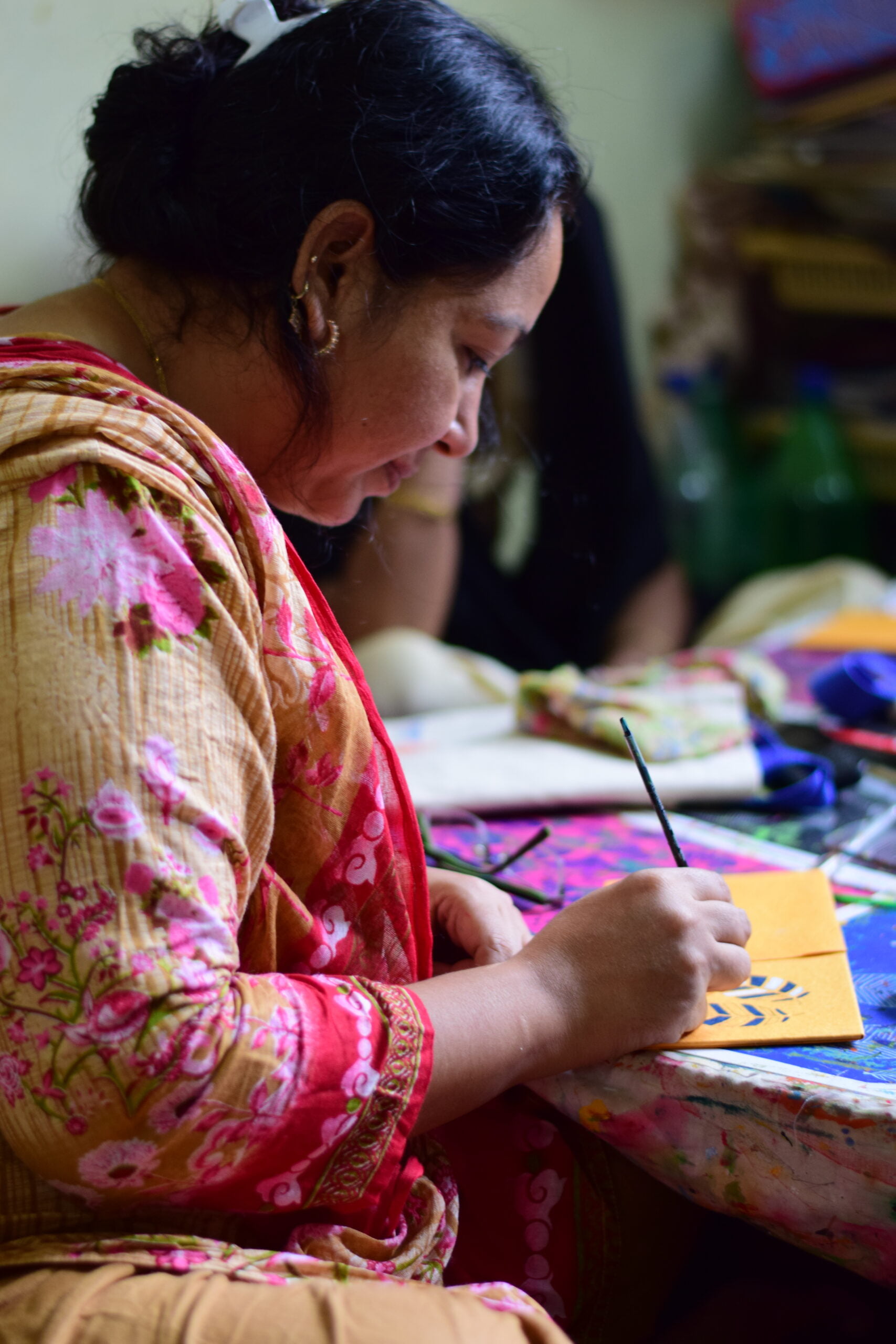 Shabnam Ansari
"As a single mother of 2 children, I was struggling financially to fulfil the needs of my children and run the house with my income as a house-help. I was looking for a livelihood opportunity which would enable me to sustain. I got an opportunity to work in a small plastic molding workshop, but there were chemicals, and the smell and gas in the small space was unbearable. It gave me severe headache and nausea. I had to quit in a week. A man working in the factory there after hearing my story, suggested I join Aftertaste. He said his wife works there and through her income she has even run the house single handedly when he was not well.
When I joined Aftertaste, I got to meet so many other women with so much personal struggles smiling, laughing, chatting and creating so many beautiful creations together. There was something about the place, which I cannot describe, which made me feel this is where I was meant to be . It was magical ! I learnt to paint and picked up many. My most memorable experience till now, is the art we created on 650 cloth photo frames, I created a design of Neem leaves on close to 150 photo frames. Never knew I had the potential to create such beautiful art.
I met people from so many different countries here, never imagined I could be part of something which would bring the world to us. I also started learning English here and feel very good about myself. Today I am able to look after the educational needs of the children, run the household single handedly through my work and I am grateful to my teammate's husband for directing me to this place. I hope I can work very hard and go far in this journey."
Sadhana Gupta
"I am Sadhana. I am living in Ambuzwadi with my family of 4 daughter and 1 son and husband. I am a tailor by profession as my husband was unable to fulfil my daily needs, I joined Aftertaste to fulfil my kids' education. My Son got an opportunity to work here. I was wondering how they are making different types of bags , masks, pouches etc. Trying new things is an everyday challenge here so I liked it very much. 

I met many new people here and had a wonderful experience meeting Pukhraj. Have worked with Gopi Vaid, they have trained to bring finishing in products. Helping nature of the founder and colleagues, we are managing our time to complete the orders. It gives us fulfilment. 

Goal - I want to support Aftertaste. I want to give my 100% and want our products to be globally known.

Most memorable moment: When my son received a laptop from Aftertaste. During lockdown, we could not get a laptop even after giving money. Her son could give the exam."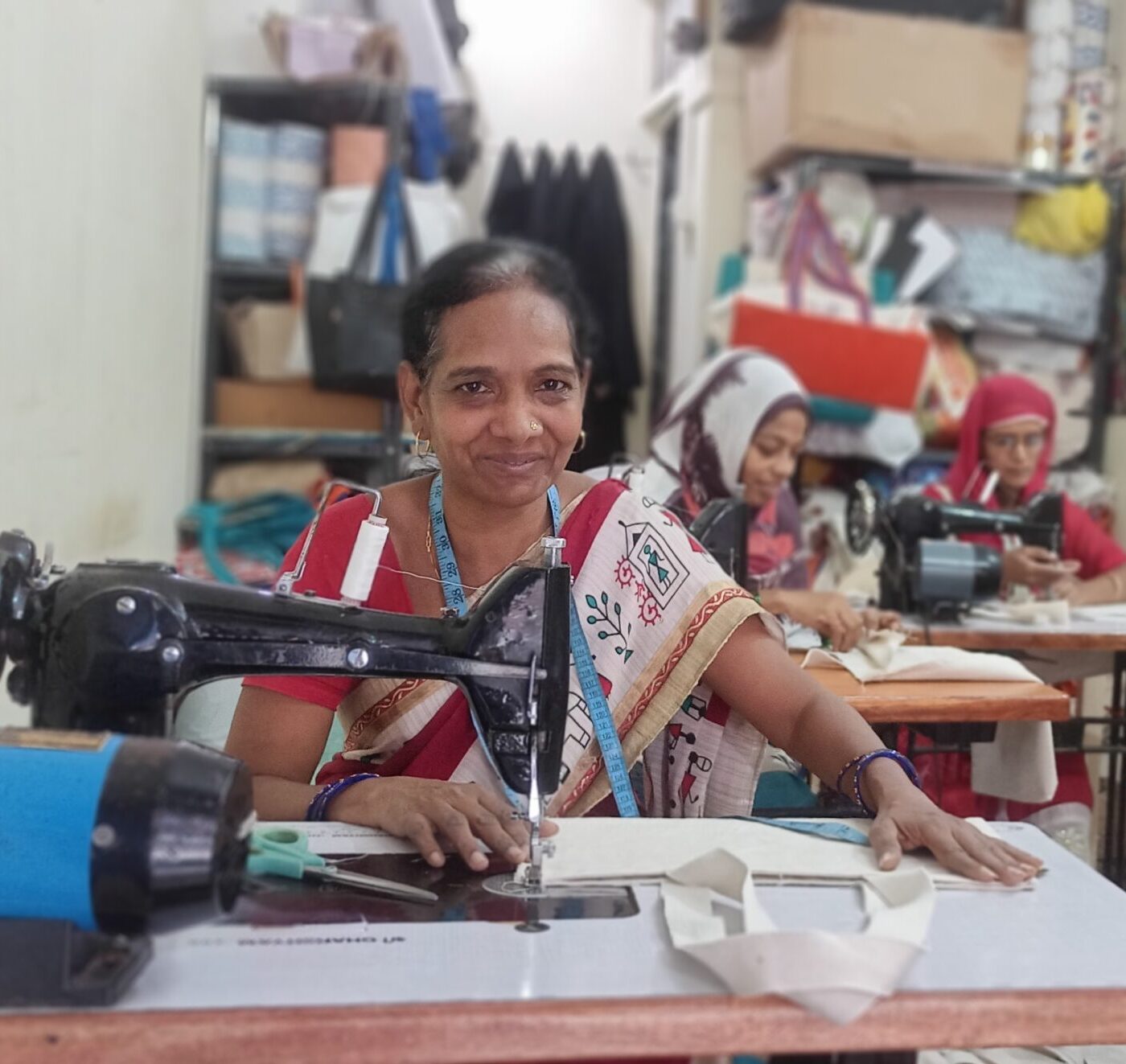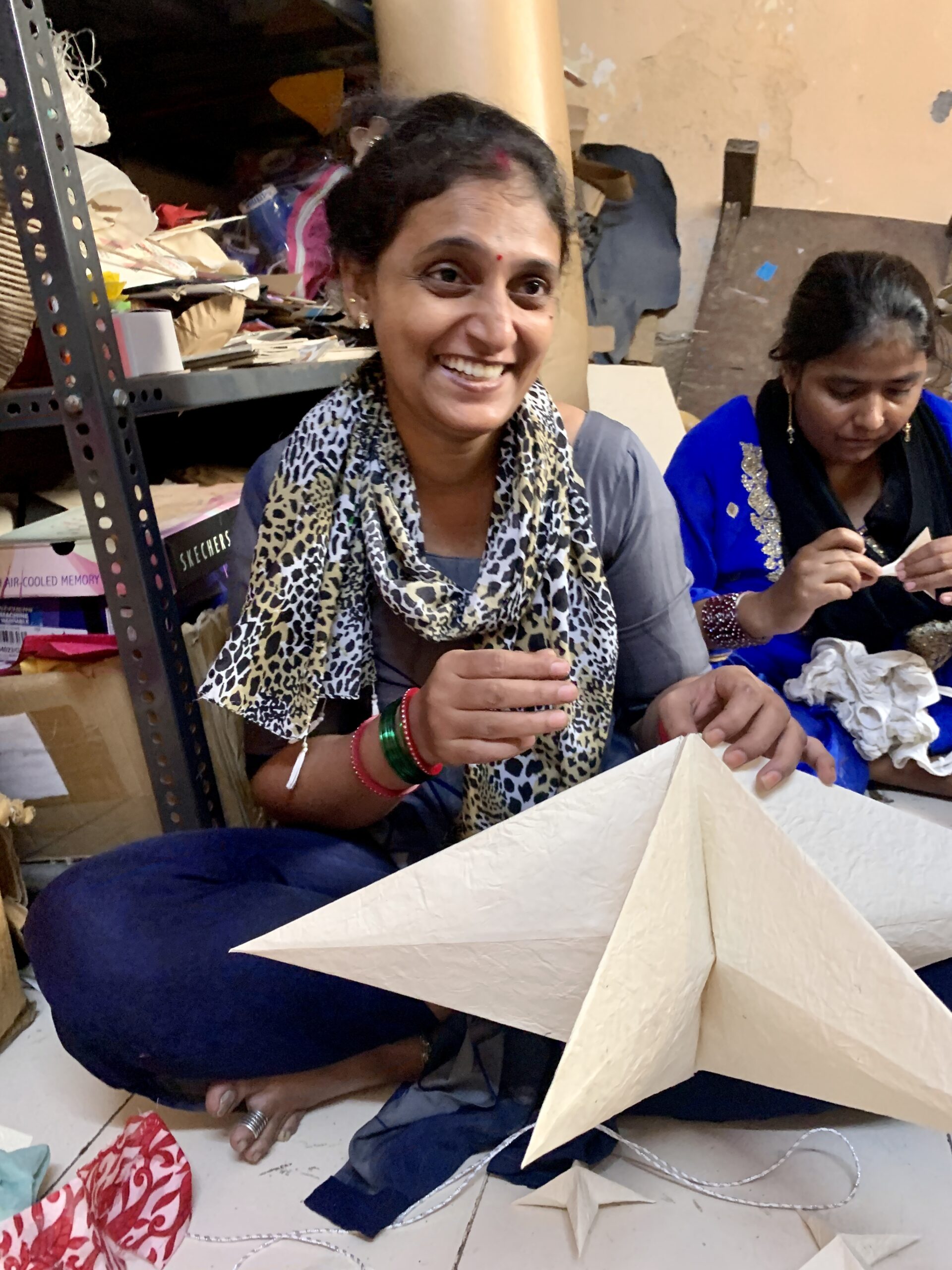 Anjali Marpali
"I am living in Ambuzwadi with my two children and husband. My husband is a helper to masons and has had a cataract operation. Because of his eye problem, he is unable to fulfil his basic needs. So I have decided to work. While I was struggling in my everyday life, a ray of Hope has come in the form of Aftertaste. There I learn, how to do craft. Due to not being educated, I have faced lot of difficulties in my life. But In this organisation, I have overcome all the obstacles by hard work with the support of my team. My teammates has helped me learn to create creative decorative products, fairy lights. I am not able to fulfil my dreams as I can help my children to study.

When I come to work, I get motivated to work more, and put in my 100 % effort to learn more. When I went for an event to Bandra BKC, outside my own world which I can't forget and it was my proud moment. I was there with my team to decorate and give a different look to a restaurant."
Yasmeen Patel
"I have four children. Overcoming grave circumstances when my youngest child was only three months old, I decided to take up a job with Aftertaste to support her family. I learnt how to make handicrafts, draw and embroider at the organisation, allowing me to feel independent and accomplished. I work with a group of women who come from similar backgrounds, which she believes is my support system. Furthermore, being a part of this group has taught the managerial skills and teamwork. I consider Aftertaste my family and enjoy working each day. I feel like an embodiment of strength and have managed to inspire a lot of women to take up a job and achieve financial independence."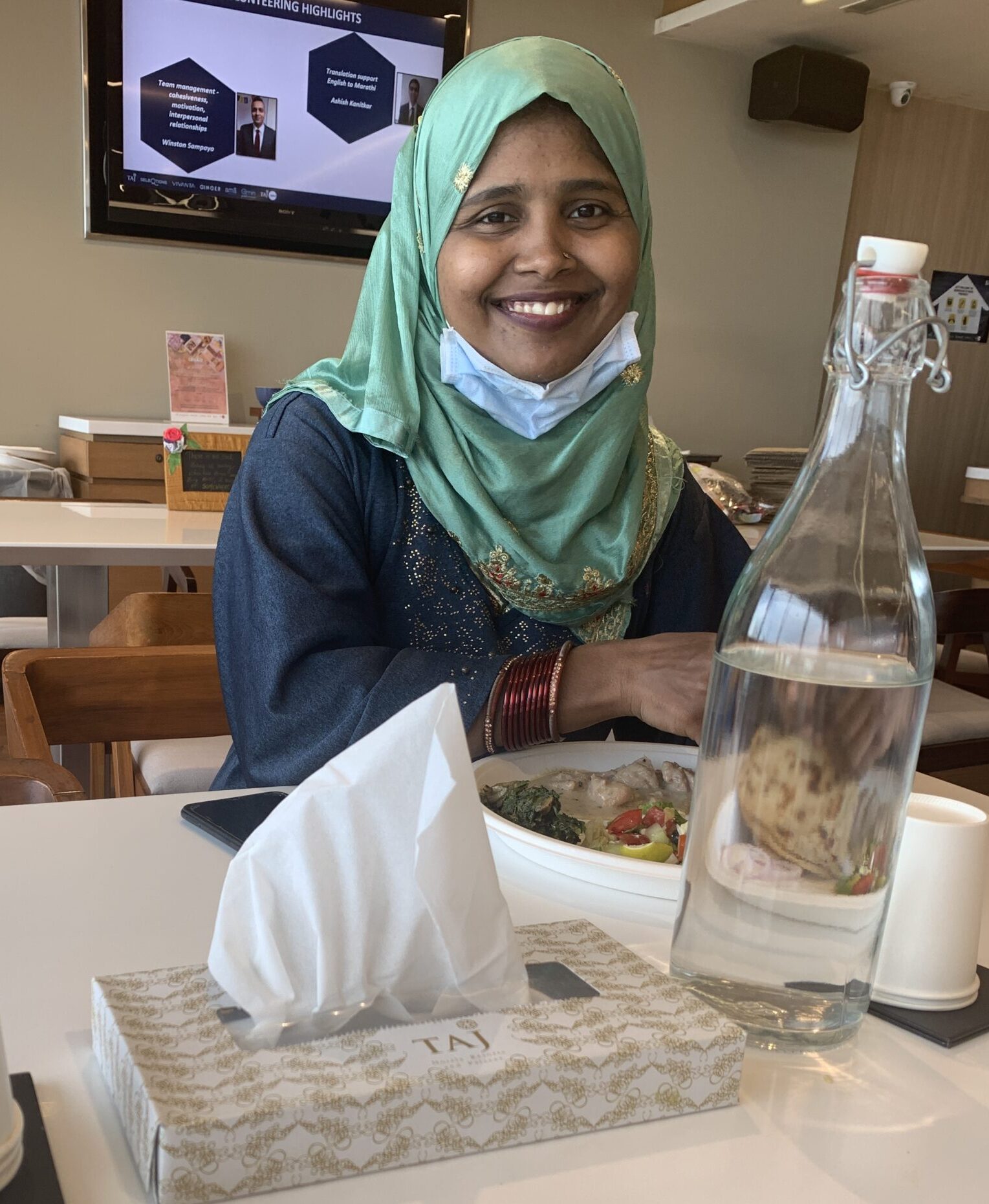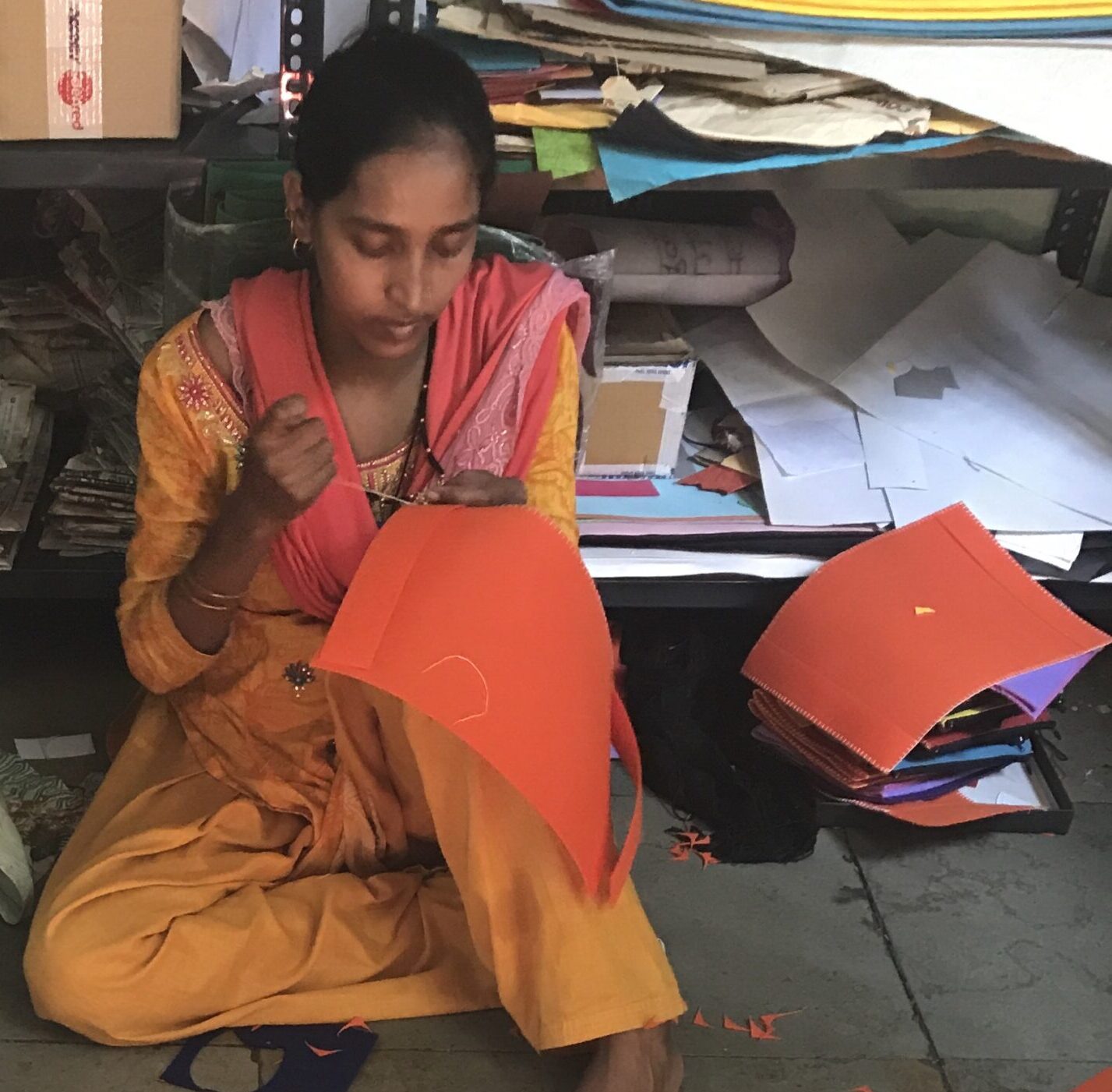 Hasina Shaikh
"A homemaker with the weight of taking care of my joint family on my shoulders, I wasn't allowed to go out and work until inevitable circumstances compelled my family to give my permission to do so. After breaking several social barriers, I became a member of Aftertaste, gaining a sense of respect and self-sufficiency. Aftertaste allowed me to explore my abilities, teaching me how to speak English, make handicrafts, and use smartphones. I strongly feel that becoming a part of Aftertaste allowed me to feel more at ease about the burdens as I found the support of incredible women who are ready to be with me through thick and thin. I have been a relentless fighter throughout this journey and an invaluable part of the Aftertaste family."
Afreen Shaikh
"I am a single mother with two children. My previous job required me to travel long distances, which did not give me much time to spend with them. Once I heard about Aftertaste from a friend, I became a part of the organisation, which I believe has completely changed my life. My time at Aftertaste allowed me to master the arts of handicrafts and embroidery.

Apart from gaining a support system through Aftertaste, I am able to look after my children while working, which gives me a feeling of comfort and security. My tenacity allows me, to aspire to pay for my children's education and secure their future, and I am grateful for Aftertaste for helping me do the same."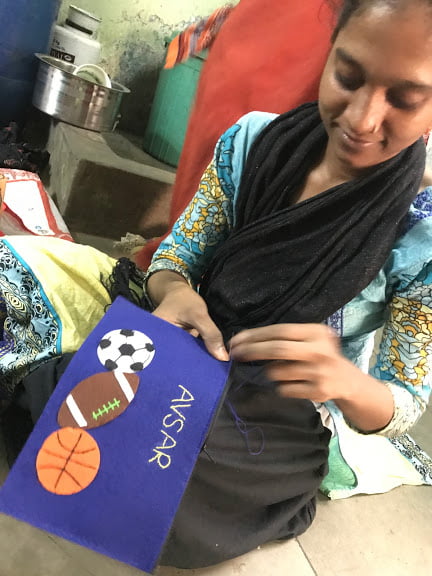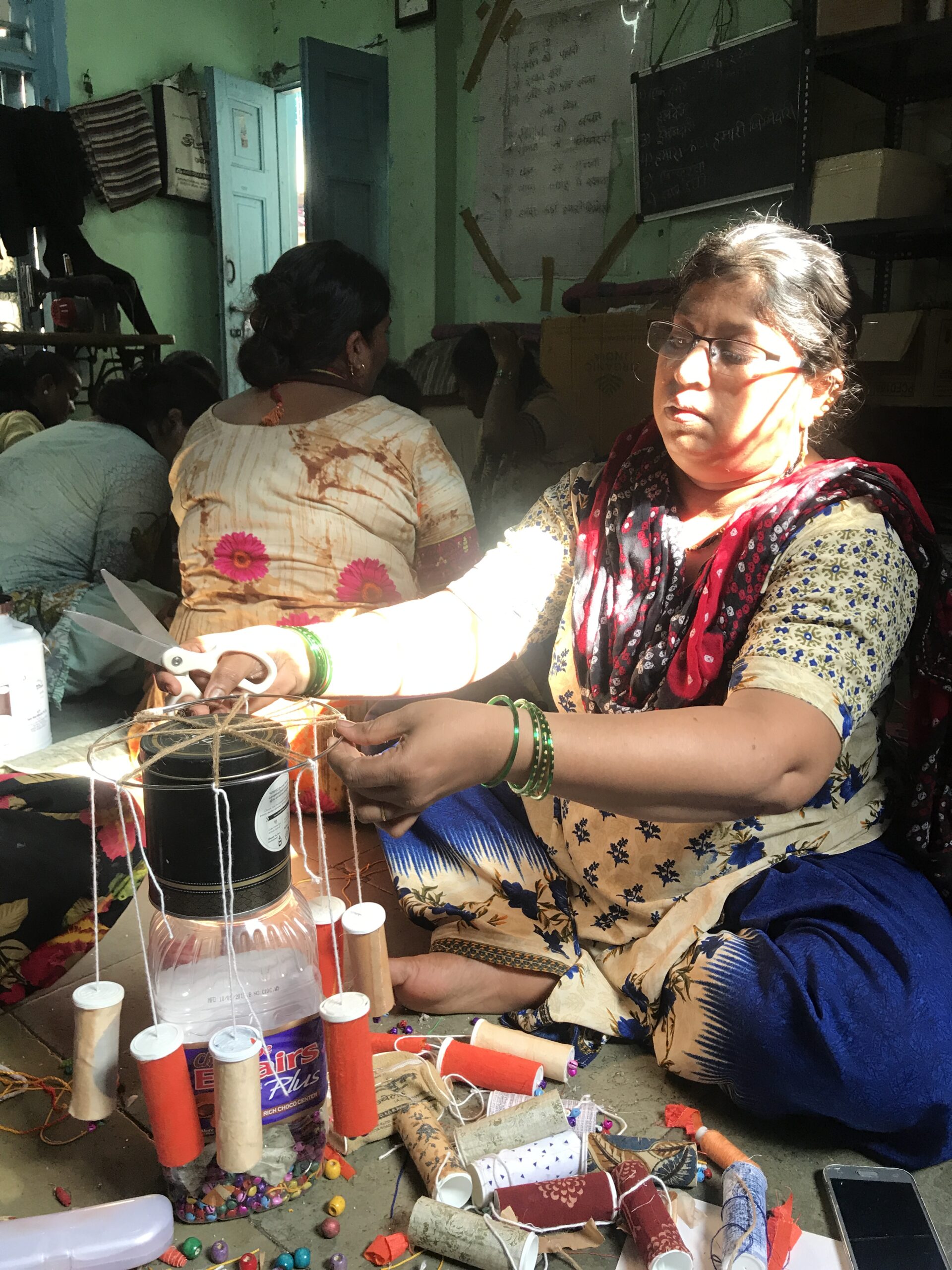 Rafiyabi Shaikh
"I take pride in my ability to stand on my own feet after being a homemaker who was primarily focused on taking care of my family and children. Apart from acquiring proficiencies like creating best out of waste products, I have learnt many valuable life skills that have made me a strong, independent woman. I enjoy working with Aftertaste, and I consider it the source of my emotional and financial wellbeing, especially during the COVID -19 pandemic. I believe that being a part of the organisation gives me a sense of security, a feeling that someone is always there to help me out during times of need."  
Saira Shaikh
"Amid troubles in my household, I decided to take up a job at Aftertaste after being a homemaker. I have been the breadwinner of my family for a year and have successfully admitted my children in school.

I feel my life has drastically changed for the better since I joined the NGO and hopes for an even brighter future. I wish to give my children a happier experience in life by educating them. I feel empowered after altering the mindset of my family and going out to work, something that was unconventional for women in this society to do. I have developed a firm belief that women can achieve anything if they wish to do so.

Nothing has made me happier than working for Aftertaste and becoming attaining emotional well-being and financial independence through my journey at the organisation."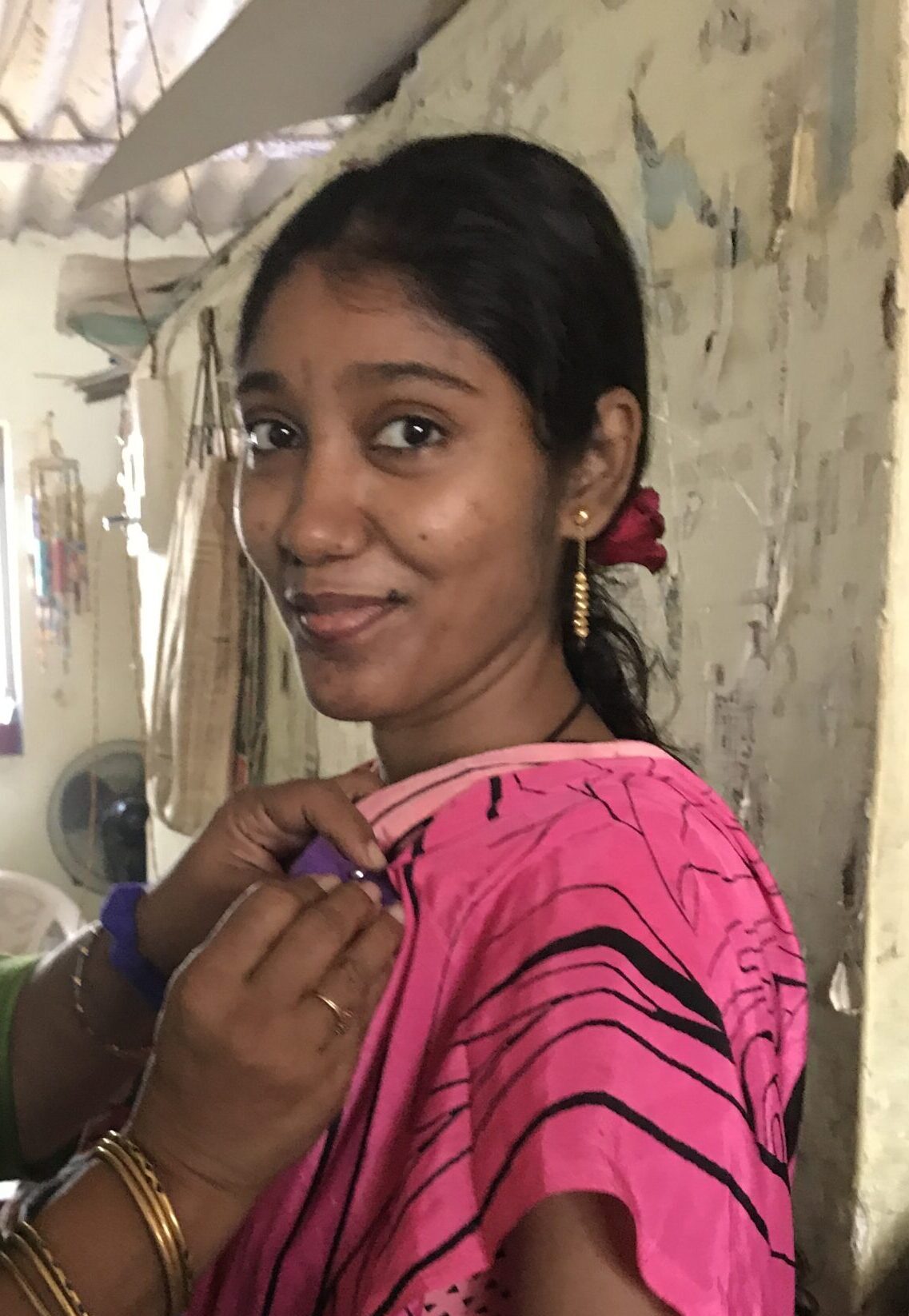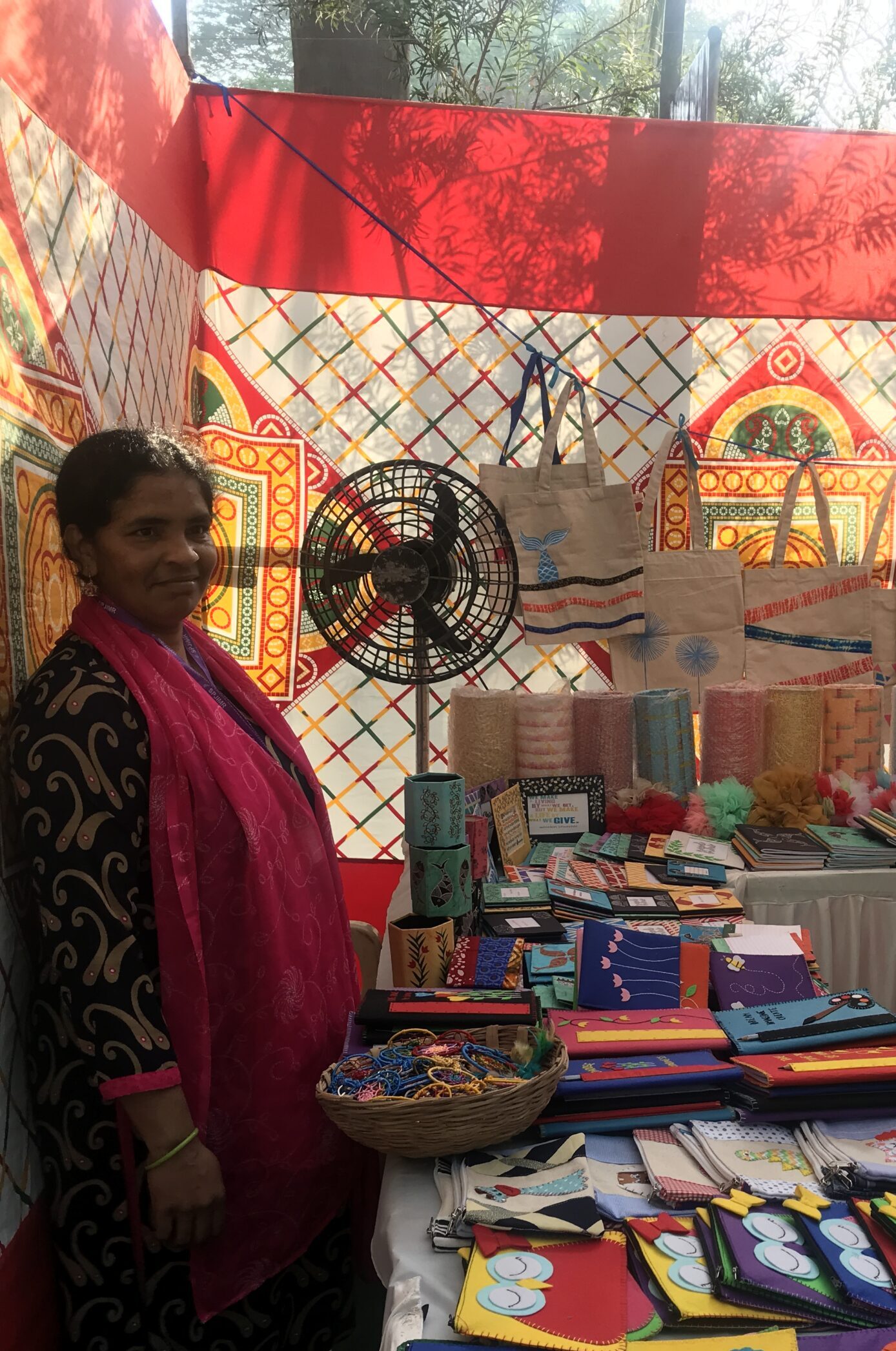 Asma Shaikh
"I was encouraged by Yasmeen's aunt to join Aftertaste and work with gracious people who soon became the root of my emotional and financial support. I feel like I owe Aftertaste a debt of gratitude for helping me learn more about the world around me, something I did not get a chance to do when I was a homemaker who seldom left my house.

Apart from feeling empowered and independent, I have acquired entirely new skills like embroidery and handicrafts through Aftertaste. I aspire to continue working with the organisation to fund my children's education. Me getting empowered with knowledge and skills has made sure my children are on the path and breaking the vicious cycle of poverty. My elder daughter Zainab is pursuing law and Company Secretary course and coached other youth of Aftertaste. My younger daughter Sana is pursuing Bachelor of Arts and aspires to become a psychologist."
UMA HALDER
"I am a widow since 8 years. I am a single parent for my 11 year old daughter. I am suffering from brain tumor since 2017. I have nobody to support me financially. Because of that I had to work inspite of poor health. I got the opportunity to work with Aftertaste foundation in 2015. My neighbour Salma ji introduced my to Aftertaste, 4 months, after the death of my husband.

My work has helped me earn a livelihood while taking care of my home, and has helped me manage my medicine. I am now imagining a better life for my daughter as she is the one for whom I am living. Because of Aftertaste I have found my identity in the society where I live."